SZABIST- Dubai, Student Placement Cell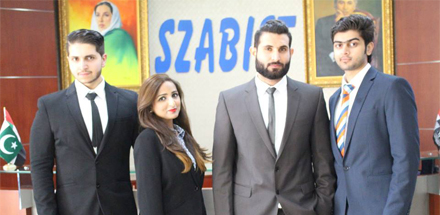 The Student Placement Cell (SPC) at SZABIST Dubai was set up in 2014. The SPC aims to support the students at every stage of their career planning. Our objective has been to groom students from diverse socio-cultural background to take up responsible positions in the professional world. Since its inception the Student Placement Cell has been actively conducting various training activities for students such as:
Resume writing and interview skills workshop
Guest speak sessions on Career Progression
On-campus recruitment drives
Off- campus recruitments where organizations are provided with detailed resumes of students
Career guidance and counseling activities
The quality and caliber of our students can be evaluated through the internships or jobs that they are holding at various well known and reputed organizations. Student Placement Cell has arranged for internship opportunities to senior students as part of their graduation requirements. SPC has also arranged for full time job opportunities in companies like TNT Express, AXIOM, CntrlS, Millenium Players, Starworld Tourism, Al Resallah School, Lincoln University, Dubai Machines, H Holdings, E-durar, Broadstreet Properties and many more. In addition to the internships and full time job opportunities, SPC has also arranged a number of short term work opportunities to students who are interested in promotional events like GITEX and Mall Promotions.
It is the goal of the Student Placement Cell to provide companies with highly competent students and to assist the student body in internship placements in order to fulfill their degree requirements.