MS (Computer Science)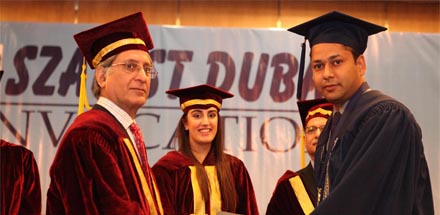 SZABIST offers MSCS degree in three domains: Core Computer Science area and in two specialization tracks, i.e., Software Engineering (SE) and Networks and Security (N&S), in order to cater to the market needs. Students have to complete 3 focused courses in any specific domain.
The program is of 2-year duration and is offered on Fridays. It requires 33 credit hours to complete, which consists of 9 courses (27 credit hours) and a Thesis/Research Project (6 credit hours). Although we emphasize and encourage students to undertake Thesis/Research Project, they can take two courses in lieu of the Thesis/Research Project in specific domains.
The maximum time limit to complete the MS degree is 4 years.
Admission Requirements
Eligibility to this program is a 4 year BS (CS) degree or 2 year MCS degree from a recognized institution. Candidates with a 4 year professional degree (BE, MSc etc.) may also apply but they will need to do deficiency conversion courses (upto 30 credits). The candidates shall have to submit GRE (General)/GAT (General) score of minimum 50%. The maximum time limit to complete the MS degree is 4 years.
Fee Structure
Application processing fee AED 100 (non refundable)
Admission Fee AED 1,000 (non refundable)
Security Deposit Fee AED 500 (refundable)
Tuition Fee AED 2000/- per course.
Semester Registration Fee AED 100